Why Priyanka Chopra has chosenUmaid Palace instead of any foreign location like other celebs! Desi Girl of Bollywood and the Pride of our Nation, Priyanka... I got out of the railway station, and into one of my favorite mountains town, Dehradoon. The chilly December wind made the atmosphere feel... Being one of the wonders of the world, the Taj Mahal is a must visit place in Agra. It had built by the Mughal...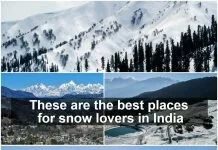 India is a place which not only attracts its own citizens but also likes by foreigners. Every year thousands of tourists visit Indian tourist... Which US City Has the Best New Year's Parties? New Year provides a great party atmosphere in the US. If you're looking for the best US city to... The golden triangle tour 6 days is one to scroll through the pages of history and to feel the cultural diversity of the region....

1. AMBER FORT Amer Fort is constructed in 16th century by Raja Guy Singh. Actually before 16th century Amer was referred to as Dhundar and...

Panch Prayag Yatra is one of the most popular and an extremely significant expression which is used to indicate the confluences of five holy...

India is an amalgamation of different cultures and beliefs. In India you can see the different shades of a life, from heritage sites to... A Story of a Traveler
A person with having a lust for exploring something which has an incredible history, amazing culture, and various dishes to eat, is a person...