The golden triangle tour 6 days is one to scroll through the pages of history and to feel the cultural diversity of the region. Among various destinations on a tour of Delhi, Agra, and...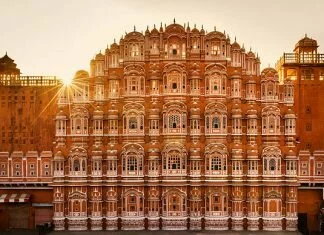 1. AMBER FORT Amer Fort is constructed in 16th century by Raja Guy Singh. Actually before 16th century Amer was referred to as Dhundar and also ruled by Kachhwahas. Before 16th century Amer was the...
Most of the people know Kota as the hub of coaching centers in India & Industrial city, but now it has become the third main city in Rajasthan. It is on its way to...
Rajasthan The state of desert has released a new tourism ad campaign, which can make you to go its tourist places, huge forts and provide you a complete makeover...
Every old city has facts to declare, stories to impress, to live the wonder and uniqueness for the soul. Jaisalmer city in Rajasthan is one that city, which provides facts about the brave leaders...
Raniji ki Baori, also known as "Queen's stepwell" is located in Bundi town in Rajasthan. It was constructed in 1699 by Rani Nathavati Ji younger queen of ruling Rao Raja Anirudh Singh of Bundi. Raniji...
You have must heard about "The Great Wall of China" the world's largest wall. But did you hear about the world's second largest wall which is located in India? It is Kumbhalgarh fort located in...
Jantar Mantar in Jaipur Rajasthan – Visit Timing & Entry Fee
Jantar Mantar in Jaipur was built in 1734 and it was one of the most accurate astronomical instruments at that time. This UNESCO World Heritage site for astronomical observations and calculations it still used...
Read more
The past and the spirits of their own are a different relationship and coincidence. There is no such place as spirits on the underside where the death shadow those places people cannot overcome their fear and they come on their knee in front of the strange world which they have no idea. Many across the world such...
Junagarh Fort is situated in Bikaner Rajasthan. It's one of the few for which is not situated on the top of hill. The fort was the former capital of Mewar and was known as...
'); (adsbygoogle = window.adsbygoogle || []).push({}); } if ( td_screen_width
Block title
'); (adsbygoogle = window.adsbygoogle || []).push({}); }