Adventurous trekking is a passion for people and they are highly anxious about challenging trekking every year. So, below is the introduction of a few trekking places that you should be careful while trekking...
Udaipur is a city in the western Indian state of Rajasthan, a synonymous with heritage, extravagance, grandeur, and royalty. It was founded by Maharana Udai Singh II in 1559. It was equipped with a...
Why Priyanka Chopra has chosenUmaid Palace instead of any foreign location like other celebs! Desi Girl of Bollywood and the Pride of our Nation, Priyanka Chopra is all set to tie the knot with Popular...
Being one of the wonders of the world, the Taj Mahal is a must visit place in Agra. It had built by the Mughal Emperor Shah Jahan in the memory of his beloved wife...
The golden triangle tour 6 days is one to scroll through the pages of history and to feel the cultural diversity of the region. Among various destinations on a tour of Delhi, Agra, and...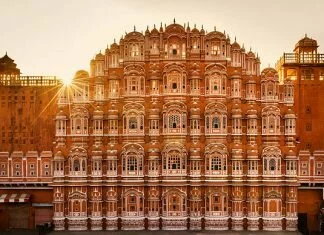 1. AMBER FORT Amer Fort is constructed in 16th century by Raja Guy Singh. Actually before 16th century Amer was referred to as Dhundar and also ruled by Kachhwahas. Before 16th century Amer was the...
India is an amalgamation of different cultures and beliefs. In India you can see the different shades of a life, from heritage sites to private own farms, street food to posh hotels and super...
Now, clicking a selfie with actors can actually be a dream that is rather relatively easily realized. The famous Madame Tussauds Wax Museum has opened its doors for the public on December 1 2017....
Kausani, a small but heart touching village, is one of the best offbeat hill stations in Uttarakhand. If you want to see the beauty of the Himalaya Mountains and you have some time in...
India as a country has all types of activities to offer to you. Depending on your choice and interests, you can choose from a wide range of activities. We are witnessing a very different...
'); (adsbygoogle = window.adsbygoogle || []).push({}); } if ( td_screen_width
Block title
'); (adsbygoogle = window.adsbygoogle || []).push({}); }